14 Pieces Every Cool Mom Needs in Her Fall Wardrobe
Okay, guys. We've already chatted about fall handbags and booties. So this week, I wanted to chat with you about some of my favorite wardrobe pieces to mix, match and layer throughout fall and into winter. Most of these are on the more casual side, but there are ways that you can definitely dress them up, especially if you pair them with other pieces in your wardrobe.
Next week I'll be putting together a ton of different outfit suggestions so you can see all the different ways these work together, and with your other wardrobe staples.
Side Note: Most of the examples I've given below are from H&M. For some reason, I had a really easy time finding almost everything I was looking for from them. So you could really do most of your fall shopping in one place!
Scroll on down for some inspiration!
Disclosure: This post contains affiliate links, which means, at no extra cost to you, I receive a small commission when you click on certain links below, or if you make purchases as a result of visiting the retailers directly from my website. Please note, I only recommend products that I truly love and think that my readers will also love.
Trench Coat
This one is kind of a no-brainer, but it really is essential to any good wardrobe, no matter what season it is.
Being a former Burberry employee, I am of course slightly prejudiced, but they really do make the best trenches ever.
Of course, they're not in many people's budgets, but I hear that Gap makes a really nice one as well.
Trench coats are so incredibly versatile because of not only their weather-resistance, but their ability to dress up or down, depending on what you pair them with.
My favorite style is a classic honey/khaki in a double-breasted style. I also prefer a raglan sleeve, because it gives you a bit more flexibility when you're wearing a suit or a chunky sweater.
Right now, the softer, more "drapey" styles are on trend, and I really love those as well. Although they are a more casual style, they would still work really well with a dressier look, especially if you pick one in black.
Check out some of my favorites from H&M at the right!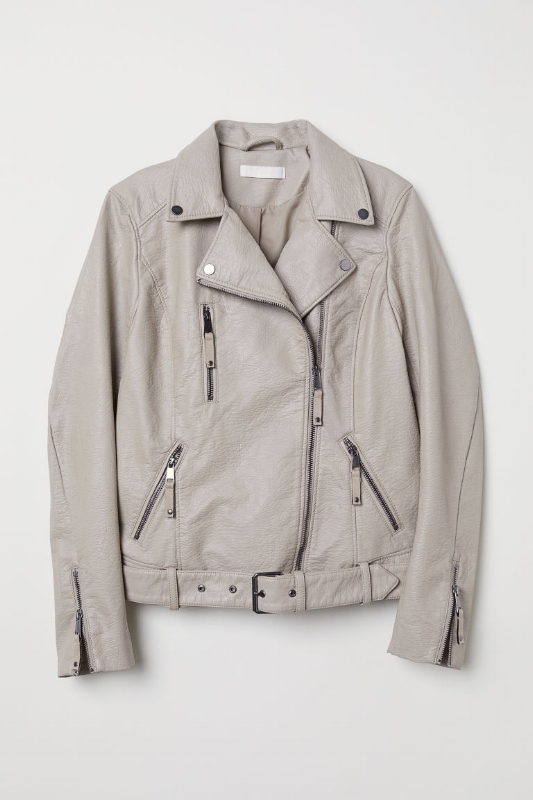 2. MOTO JACKET
A good black leather motorcycle jacket is a good style to have in your closet, period. It's such a great way to add some extra edge to literally any outfit.
If you already have a black leather moto jacket, try looking for a lighter color, or a jewel tone, in suede or knit, even.
Take a gander over to the left for some gorgeous options!
3. Hooded Parka
A lightweight, hooded parka is the perfect transition piece for fall. You can layer them over anything, and the hood is helpful when you run into a random shower.
Military green is probably the most common and popular color, but if you're looking for something a little different, a light khaki is also really versatile, and the slate blue works really well as a neutral.
Check out my favorites from H&M to the right.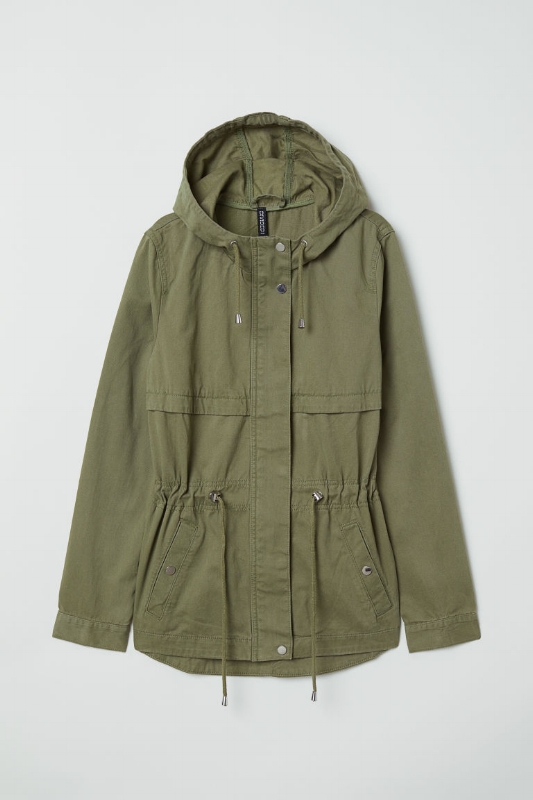 4. Longline Cardigan
A cardigan is an obvious essential for fall, but my favorites are ridiculously long and slouchy, and preferably come with pockets.
I am in love with the grey one to the left. It looks amazingly soft, and the subtle balloon sleeves are chic without being overdone.
The best part about these cardigans is that they look equally great over a dress, or over leggings and a relaxed tee.

5. slouchy pullover sweater
I mean, what could be more quintessentially fall than a cozy oversized sweater?
They can be worn with jeans or trousers, or pulled over a summer dress when you need a little more longevity from your summer wardrobe. If you tend to run warm, a finer, lightweight knit like the one at right works really well. If you get a longer tunic-style version, they work really well to layer over leggings (bonus points!).
My favorite colors are black, ivory, camel, and forest green, but other jewel tones like burgundy and teal are gorgeous as well.
Check my favorites out over at the right.
6. plaid flannel shirt
Again, another essential layer for fall. I love wearing flannels as a jacket when the weather is in that awkward transition where it's cold in the morning and ninety degrees by the afternoon. And if you have no idea what I'm talking about, well lucky you.
You could layer your flannel over a t-shirt dress with some high tops like the ones listed below. If the weather is a little unfriendly, pop your utility parka over the top and you're set! Or pair your flannel with jeans, a relaxed white tee shirt and some black booties for a rocker-chic look.
There's one secret to finding a good flannel, though. Sometimes you can find them in the women's department, but they're often over-priced. The trick is to either shop at the thrift store or in the men's department. You really could shop in the men's department for quite a few of the things on this list, but this is especially true for flannels.
Red-and-black buffalo check is of course a classic Pinterest/Instagram-worthy look, but I really like achromatic styles, or multicolor options as well. As long as you pick something that goes with your typical color palette, you'll be all set!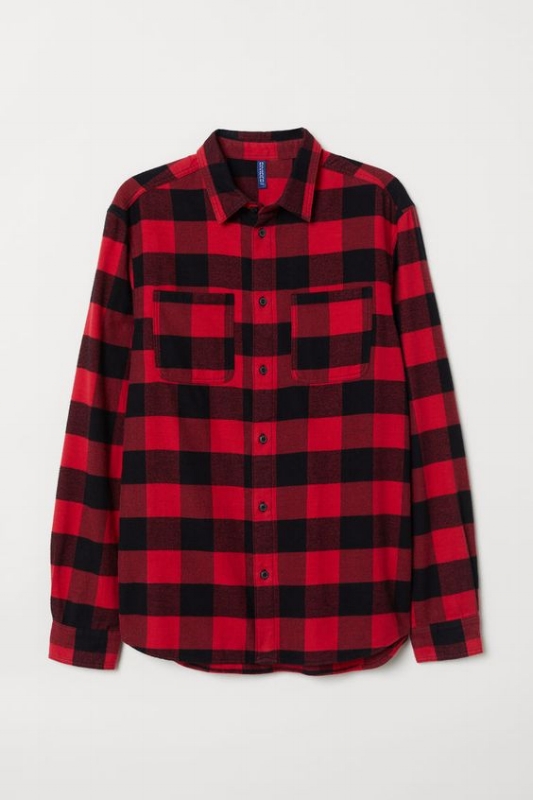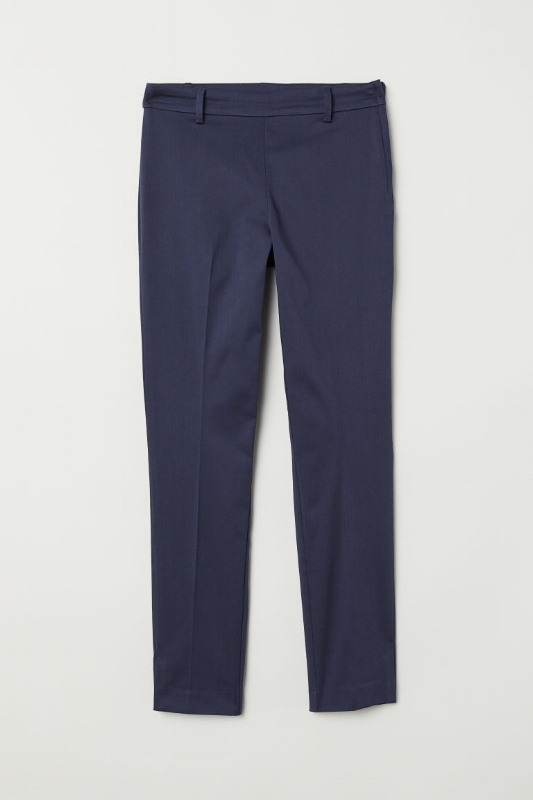 7. Dark Skinny Jeans
This one is another no-brainer for fall. Denim is versatile in general, of course, but if you're looking for a pair that dresses up easily, dark (or even black) is the way to go.
I love coated denim as well for that extra little bit of edge.
Check out my favorites over on the left!
8. Menswear-Inspired trousers
If you're trying to achieve that perfect "IDGAF" look, the key is to borrow from the boys.
Just look for some straight- or relaxed-fit pants that hit about ankle-length, in a men's suiting fabric. Opt for houndstooth, windowpane check, or Glen Plaid (like the ones shown at right) for the best effect.
Pair these with a slouchy sweater and some Vans Old Skools for the ultimate cool-girl factor.
Or, slip on some nude or black stilettos, a lacy camisole, and your biker jacket (or trench) and head out for drinks!
9. midi skirt
You probably already have a few of these (or midi dresses) in your closet from spring/summer. They're such a great wardrobe staple, because it's so easy to layer them.
Pair yours with a lacy camisole, pointed flats, and a moto jacket for drinks before the weather gets really cold. Or slip on some boots and a slouchy sweater to get maximum use out of this wardrobe staple in the colder months.
I love the flared, pleated versions for maximum 70's vibes with tall boots. But go with what you feel best in! Check out some of my favorites at the right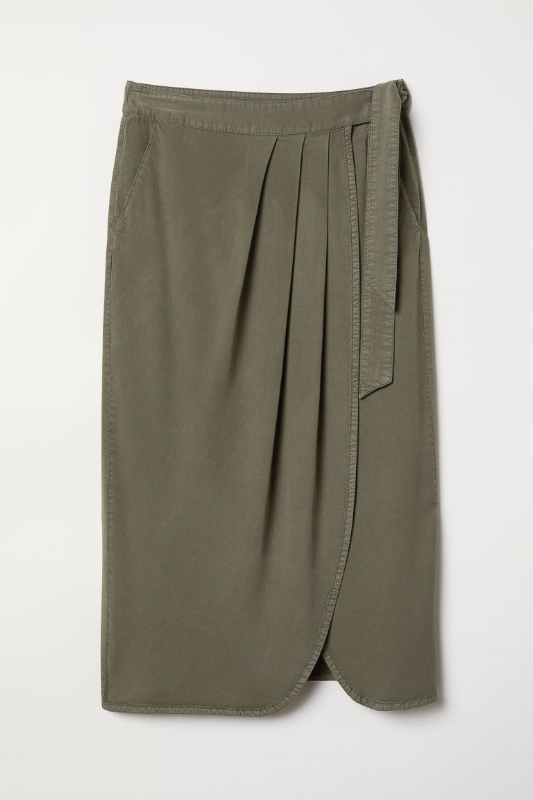 10. Sweater dress
Okay, this one has to be saved for when it gets legit chilly outside, but it is so worth it. Throw one on and grab some knee-high boots, and you're good to go! You can add some sheer tights for a little more dimension, and to dress it up a notch, but this look is best done simple.
11. Opaque and patterned tights
These are the perfect accessory to transition your summer skirts and dresses to fall and winter. Mini skirts that bare too much skin? Just throw on some 100-denier black tights and call it a day! Paper bag waisted shorts not lasting you long enough? Bust out some pin-dot tights and werk it, girrrrl.
Check out some of my favorite styles to the right.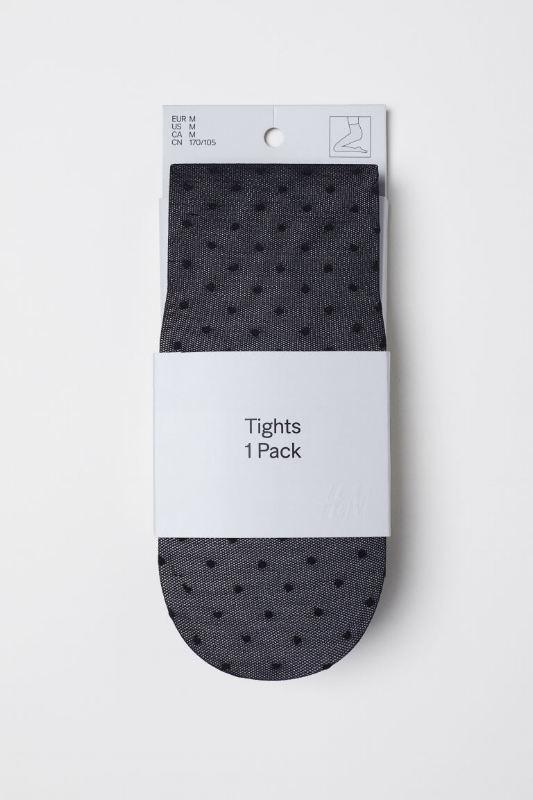 12. Sleek block heel ankle boots
Now, any ankle boots are great for fall weather, but minimalist booties in sleek leather or suede are a perfect way to go from day to night effortlessly.
I have a few great examples to the left, but if you need more inspiration, check out last week's post of my favorite new pairs for fall.
13. Knee-high or over-the-knee boots
Tall boots are a necessity if you want to stay warm during fall. Over-the-knee styles are especially nice if you want to get a little more wear out of those minis, and they go great over leggings or skinny jeans.
For over-the-knee styles, I recommend going with a flat or low heel if you want to avoid looking like you're trying too hard. There's just something about an OTK boot with a high heel that screams "stripper!" (but maybe that's just me). I especially like them in a suede (faux or real), if you can find them. There are a lot of pairs out there that look really cheap, so tread carefully with this one.
14. High-top Sneakers
Last but not least, the essential shoe for a casual summer-to-fall transition: the high top sneaker.
I have to be a stickler here and say that Vans Sk8-Hi's are the ONLY way to go for high-tops, but I did include a pretty cool pair of slip-ons that struck me as interesting.
High-tops are perfect for fall because they're not as stuffy as boots, but they'll still protect your ankles and feet if there's a sudden downpour.
Not to mention that they're ridiculously comfortable and add an instant cool-girl edge to any outfit. Seriously, pair these with the men's trousers and slouchy sweater above, and you've perfected the IDGAF look.
Also, they're totally perfect for mom duty, and for matching your littles!
Well that's it for me today! Comment down below and let me know what fall wardrobe items you can't live without!
Much Love,
Michelle