The Five Best Cookbooks for Busy People
Disclosure: This post contains affiliate links, which means, at no extra cost to you, I receive a small commission when you click on certain links below, or if you make purchases as a result of visiting the retailers directly from my website. Please note, I only recommend products that I truly love and think that my readers will also love.
Does anyone still use cookbooks, or is it just me? Don't get me wrong, I love Pinterest, and that's what I actually use eighty percent of the time for meal planning, but there's just something nice about sitting down with a book and going through all the glossy photos while planning a meal.
My usual method of operation when it comes to meal planning is to do about 75% freezer or slow cooker meals, and 25% freshly cooked meals. I've found that with three kids and a busy hubby, the only way I'll actually make dinner every night is if it's pre-made a good portion of the time.
When I do cook something fresh, I have a few cookbooks that are my go-to for inspiration. I still need something that will cook up in a reasonable amount of time, though (preferably thirty minutes or less). So here, you have my favorite cookbooks for busy people.
by Michael Symon and Douglas Trattner
5 in 5 was written on the premise of creating a great meal with five fresh ingredients and five minutes of cooking. The book is organized by cooking technique, including grilling and foil packets, and there is an entire section devoted to just ice cream (yes, you read that right).

The Angel Hair with Corn, Feta and Tomato is one of my favorite recipes when I want something that doesn't create a lot of heat in a summertime kitchen. The Chicken Thighs in Tomato and Olive Sauce is another tasty dish, and it uses a cheaper cut of meat, which is nice.
Another great one from him is 5 in 5 for Every Season, which focuses on seasonal eating rather than technique.
by Martha Stewart Living Magazine
Real Simple is one of my favorite magazines, and they are the writers behind this book, so it's no surprise that the recipes included are delicious and easy.

Almond Apricot Chicken with Mint Pesto is a great dish when you're looking for something different, and the Spinach Penne with Ricotta and Pine Nuts is so delicious and simple that it's almost absurd.

Everyday Food: Light is another title from them that I can't wait to pick up!

Grab your copy of Great Food Fast here.
by Giada De Laurentiis
I just love Giada. She is one of those women that makes you go "how does she do it?" Her food focuses on simplicity and good flavor. She also has a lot of family-friendly recipes in this book, which is definitely a plus.

The Grilled Sirloin Steaks with Pepper and Caper Salsa are SO flavorful and easy, and the Fried Smashed Potatoes with Lemon are one of my favorite side dishes, like ever. Of all time.

She has another book, Giada's Feel Good Food, which looks amazing as well.
Grab Weeknights with Giada here.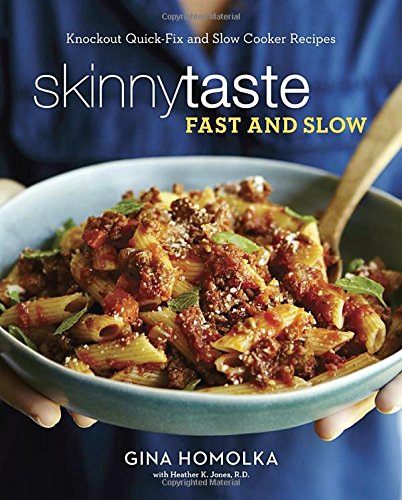 by Gina Homolka
I haven't gotten around to purchasing this one yet, but it is on my wishlist. Gina's blog, Skinnytaste, is my go-to when I'm want easy recipes that are super healthy (or are a healthier version of a familiar comfort food).

The Zesty Lime Shrimp and Avocado Salad sounds SO amazing, and the Scaloppine with Broccoli and Melted Mozzarella sounds like a great idea when you are having a tough time with cheese cravings. I can't wait to try this one out!
Click here to get your copy!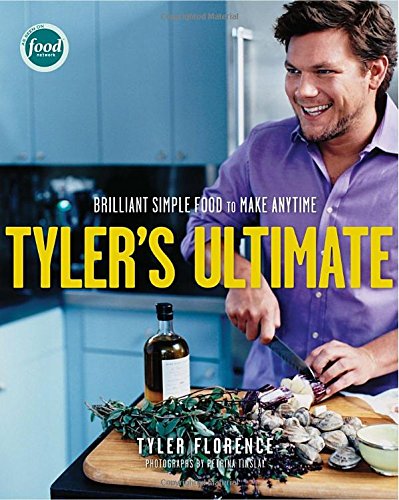 by Tyler Florence
This is another one that's just on my wishlist for now, but I used to watch Tyler Florence on the Food Network allll the time when I first got married. His passion for simple, flavorful food makes all his meals exciting.
This book has a great mix of unique recipes that have interesting flavors (like Grilled Eggplant with Lemon, Yogurt, Pomegranate and Mint, or Chicken Paillard with Fresh Fig Salad and Blue Cheese), and classics like The Ultimate Spaghetti and Meatballs, or Barbecued Ribs. I'm not kidding when I say that every. single. recipe. in this book sounds amazing. Someone buy it for me, pleeeease!
Grab it here.
That's it for my favorite cookbooks. What are the go-to books that you keep in your kitchen? Or do you use cookbooks at all? Let me know in the comments?
Much Love,
Michelle